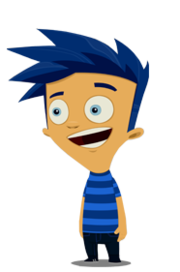 Lester Colin Awesome, nicknamed 'Les, is the leader of Team Awesome and the star of the show. Small in stature but big in awesome ideas! Born leader, Les is never afraid to attempt the impossible and help out his friends. Sometimes he can be competitive and rude, but Les means well and wants to have a good time while he does it! He is the son of Max Awesome, who married Angelina Kerplopolis, now Les' step-mother. Her daughter Thera Kerplopolis became Les' step-sister. And Mrs. Awesome, who married Mr. Kerplopolis, now Les' stepfather. He has a cousin named Tyler Awesome. He is the future stepson-in-law of Mr. & Mrs. Plinsky, the future step-grandson-in-law of Nana & Pops Plinsky, & the future step cousin-in-law of Derek Plinsky.
Les' best friends are Noam, who is his future stepbrother-in-law and Lars, and he has a pet monkey named Mr. Twitchy.
Les is voiced by Samuel Vincent.
Personality
Edit
Les is a born leader who always decides what needs to be awesomized. He knows what he likes and what he doesn't, and is always willing to help his friends.
He can sometimes be greedy, or become competitive or not think certain things through. But he always gives everything (he likes) 100%! Les can also be very lazy and when he does not wish to do something he often spends his time plotting on how to fix it, without having to do said task himself. Les also was concerned over his lack of a trophy until he finally got one after saving someone's life.
At times he will use/ask Thera for help in order to impress or one-up someone else, such as dancing. For singing he had to rely on Lars' help.
Les hates the last day of Summer Vacation and the country until he learned the country actually could be fun.
It's revealed that Les has a crush on schoolmate Holley Holtey who can never get his name right.
Appearance
Edit
Les is the shortest member of the group and 1 inch shorter than his stepsister, Thera, if one does not count Mr. Twitchy and has tanned skin and sky blue eyes. His hair is dark blue and spiked, and he normally wears a blue striped shirt with dark blue pants (possibly jeans) and blue shoes. In the original series, he wears a red A tee-shirt with light blue pants (possibly jeans) and red shoes. In the 2nd series he wears a red striped shirt.
In "Year Booked", Les wore a sailor suit as a baby or little child, and his hair was curled instead of spiked.
Les' 14 years old. In the original series he was 12. In the 2nd series, he was 13. He was born on April 1st, 1997.
"Dude, that's my sister!"
"Time to Awesomize!"
"Awesome idea #..."
"Awesomization #..."