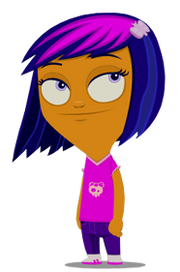 Thera Kerplopolis[1] (voiced by Chiara Zanni) is the daughter of Angelina Kerplopolis and Mr. Kerplopolis. When her mom got married to Mr. Awesome, he became her step-father, and Lester Awesome's step-sister. When her dad got married to Mrs. Awesome, she became her step-mother. She's a future stepsister-in-law of Holley Holtey, the step-cousin of Tyler Awesome, the future cousin-in-law of Derek Plinsky, the future granddaughter-in-law of Nana and Pops Plinsky, and the future daughter-in-law of Mr. and Mrs. Plinsky.
Abilities
Edit
Appears to be skilled in some form of martial art, as she is able to shatter an ice block with a jump kick in When Hall Freezes Over
In Scary Go Round her behavior is called "wacky teen humor" by Mr. Awesome indicating she is at most 14 years old at the time. In the original series, she was 12. In the 2nd series, she was 13. She was born on May 11th, 1997.
Appearance
Edit
Thera has blue hair (like her step-brother) with a pinky-purple coloured fringe, she wears a pinky-purple t-shirt with purple jeans with white trainers. In the original series, she wears a purple sweatshirt with an A tee, a half pony tail, a purple backpack, and purple earings.
Personality
Edit
She is ready for action and never gives up. Sometimes she has a little bit of a temper when it comes to rivals. She likes taking risks.
Unlike the rest of the team she is the only one to get carried away in rivalry. She and Les appear to have a normal sister and brother relationship.
Relationships
Edit
Used to have a crush on him,
In Scary Go Round she blushes when Noam hugs her and later is so distracted staring at him that she leans her left elbow on the red hyper-accelerator button.
In Dental Denial as she says "cute boy germs" she glances subtly in Noam's direction, though he looks puzzled and Les looks awkward seeing this
In Used Tissue of Doom when referring to previous years she got sick, it becomes clear that:
References
Edit
↑ This is what the principal calls her in Club Detention, he does not give her the name Awesome, even though he refers to Les as her brother.